Surgical Services
Cataract Consultations and Surgical Care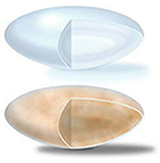 Your eye has a clear lens through which light passes, allowing you to see. When the lens loses its transparency, the cloudy tissue that develops is known as a cataract. Cataracts affect millions of people each year, including more than half of all Americans over the age of 60. Cloudiness develops as a result of a buildup of protein in the lens. Over the course of time, cataracts cause a progressive, painless loss of vision. Cataracts can occur in either one eye or both eyes.
Causes of Cataracts
No one is exactly sure what causes cataracts. It may be the result of the following:
Injury
Medication
Illness
Diabetes
Alcohol use
Prolonged exposure to ultraviolet light
Smoking
Family history of cataracts
Exposure to radiation
A result of eye surgery
Symptoms of Cataracts
Patients with cataracts often do not experience any symptoms when the condition first develops. Cataracts will continue to progress with no apparent pain, although patients may experience some of the following symptoms:
Blurry or hazy vision
Double vision
Colors that appear to be faded
Poor vision in bright light
Seeing halos around lights
Poor night time vision
Yellowish tinged vision
Frequent changes in lens prescriptions
Treatment of Cataracts
Early cataracts, which are still fairly new, can sometimes be treated with non-surgical methods such as:
New eyeglass prescription
Anti-glare sunglasses
Magnifying lenses
Installing lighting that is brighter
If the cataracts begin to interfere with your ability to read, work or do the things you enjoy, you may want to consider cataract surgery to restore your vision. If cataracts are in both eyes, your surgery will be performed on one eye at a time, usually four to eight weeks apart. Cataract surgery is the most commonly performed surgical procedure in the United States. Approximately 90 percent of the people who have had cataract surgery have improved vision after the procedure.
Cataract Surgery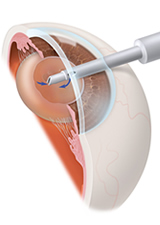 Cataract surgery replaces the cloudy natural lens of the eye with a clear artificial lens, known as an intraocular lens (IOL).
Our doctors perform a minimally invasive, small-incision, no-stitch cataract surgery called phacoemulsification, also known as "phaco", surgery. During this procedure, a tiny incision is made in the eye making room for a small ultrasonic probe. This probe breaks up, or emulsifies, the cloudy lens into tiny pieces. The lens pieces are then suctioned out through the probe. Because of its small size, the incision will be able to heal on its own with only a topical eye drop, so there are no injections or stitching in the eye at all.
After the cloudy lens has been removed, the artificial IOL is implanted in the eye. The advanced foldable IOLs is inserted through the same small incision that was made to remove the original lens. This process significantly reduces recovery time while improving safety and reducing the risk of bleeding, scarring, irritation and distortion.

Toric Lens Implants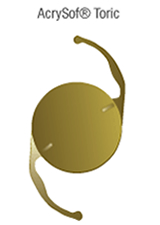 Intraocular lenses are used to correct vision problems during cataract surgery by replacing the old, damaged lens with an artificial lens that clears up and corrects vision, often leaving patients with little to no dependence on glasses. While cataract surgery corrects cloudy lenses, it still leaves patients with astigmatism with distorted vision. Toric IOLs are specially designed to correct astigmatism along with overall vision during cataract surgery, offering complete vision correction.
Before Toric IOLs, people with astigmatism would need to undergo corneal refractive surgery after their lenses were implanted, or would remain dependent on glasses or contact lenses. The advanced Toric IOLs correct the imbalance caused by an irregular cornea shape in patients with astigmatism. There are several different types of FDA approved Toric IOLs, including AcrySof® Toric Lenses, which can correct up to 5 diopters of astigmatism.
The risks of a Toric IOL include poor vision as a result of the lens rotating out of position, although this risk exists with any type of intraocular lens. Toric IOLs are considered safe for most patients with astigmatism and are the only solution to correct vision problems associated with both cataracts and astigmatism. Talk to your doctor to learn more about these lenses and find out if you can enjoy the benefits of Toric IOLs.